Vecslocene is the historic continuation of river Slocene. Back in the day in this riverbed Slocene flooded from Valguma and Kanieris lakes into Sloka lake and Lielupe. The deepest point of the river is only 1.1 m, while the average is 60 cm.
Vecslocene is interesting for water tourists because it flows through a swamp and a part of it is located in the Kemeri National Park. Travelling Vecslocene you can observe the wetlands that cannot be reached on foot using the Sloka lake walking trail.
The best conditions on the river are in the spring or autumn, when there are less insects and weeds. In summer time the route becomes a survival adventure in the jungle, which might suit those seeking adventures, but is by no means a relaxing canoing or kayaking trip for the family.
Route: Vecslocene – Sloka lake – Vecslocene
The route can be split in three sections: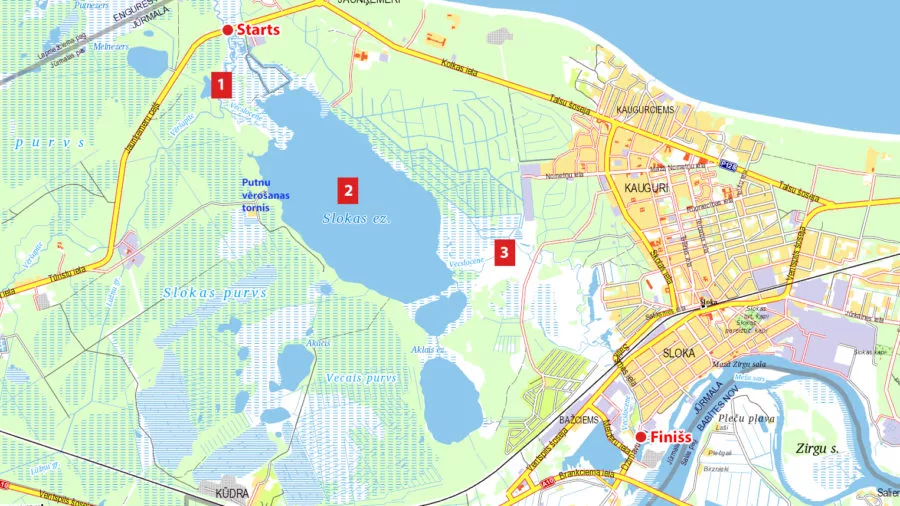 1. Reed maze from the beginning of the route to Sloka lake 1-2 km, depending on which river path you take to enter the lake.
2. Sloka lake 2-2,5 km depending on whether you take a detour to a Bird watching tower (recommended) or cross the lake in a straight line.
3. Continuation of Vecslocene from Sloka lake approximately 4.5 km. The adventure of this part is finding the river outlet. Once the river has been found, continue to enjoy the nature of the marshland. After a kilometre the river flows past woodland on the left. The river also flows underneath a road, so the boats will need to be carried over it.
At this point and after on be wary of the local fishermen on the shores. They are not always friendly, which is probably unpleasant part of the journey, but some tourists find it attractive. Otherwise the river is visually enjoyable all throughout the journey.
The last bridge before the river flows into Lielupe is the finish line. You can also continue the journey on river Lielupe if you wish.
The route is only 10 km by boat, without much of a stream, and will take on average 4 hours to complete.
Vecslocene is suitable for all types of boats except for inflatable ones.
Sloka lake is not too big and is shallow. However in canoes, especially when travelling with children, be wary of the wind on the lake, you might need to travel by the shore where the winds are less strong. You do not need to worry about the wind while travelling in Sit-On-Top kayaks.
Price and service*
For all regular routes service included in price:
Gear (boat, paddles life jackets)
Gear transportation
Pickup of your car drivers if large group, everyone if small group to / from start /finish depending on chosen route geography*
* In Vecslocene you leave car at finish and we transport you back to start. Your cars wait for you at finish.
Minimal order for Vecslocene route is 6 boats:
€ 26,– (1-seated kayak, SitOnTop kayak)*
€ 37,- (2-seated kayak, canoe)*
€ 39,– (3-seated canoe)*
* Price for one boat
Reservations
✆ +371 29466501
✆ +371 27788081